This piece originally appeared in the 1/23 edition of The Huntington News.
For Maria Henriquez, the chance to go on co-op in a progressive place like London was a once-in-a-lifetime opportunity. When it came to determining how to let her colleagues know she was a lesbian, though, the city's liberal leanings didn't ease her worries.
"I never felt unwelcome or unaccepted, I just felt slightly odd about trying to be obviously queer in a very grown-up, academic environment," said the third-year psychology and linguistics combined major. "Everyone there was very private about their personal lives, so there wasn't really opportunity for that. It just wasn't the culture there."
For some LGBTQ+-identifying students like Henriquez, being out on co-op is more than just being open about their sexual orientation or gender identity. Their interests, styles of dress, hobbies and weekend plans revolve around their LGBTQ+ identity which, when left unsaid, leaves them unable to truly be themselves in their six-month placement.
"We haven't had conversations about it [with students]," said Megan Richmond, an associate co-op coordinator in the D'Amore-McKim School of Business. "Which could mean one of two things: either that students are not feeling an additional pressure or challenge in their [job] search due to their sexuality or gender identity, or that they are facing that challenge and, for whatever reason, don't feel comfortable expressing it."
Henriquez, who just finished her co-op at Goldsmiths, University of London as a research assistant in the Music, Mind and Brain Group, originally came to Northeastern from Cincinnati, Ohio. There, she said it wasn't safe to express her sexual orientation. So now that Henriquez spends her time in the liberal city of Boston and has more LGBTQ+ friends, being easily read as an LGBTQ+ woman is important to her — even in the workplace.
"My ideal goal for myself is to be able to walk into a room and for everyone to go, 'she's gay,'" she said. "I always look at Pinterest, like, 'lesbian fashion for work,' because I don't see a lot of queer people around."
For Henriquez, this lack of visibility is part of the problem.
"When you don't see enough queer people around you, it makes it really hard to present yourself as queer, because you don't know how other people do it or what else is involved in it," she said. "Every person is starting from scratch."
Compared to other marginalized identities, someone's LGBTQ+ identity is typically invisible unless they choose to disclose it. For Henriquez, that means she wants her clothing, haircut, personal style and mannerisms to tell others she is LGBTQ+. Considering how innocuous many of these signals are, cisgender and heterosexual colleagues may not pick up on them, forcing students to explain their sexuality or gender.
Many students may avoid verbalizing it simply to protect themselves.
"You immediately retreat because it's a risk, even if it's not really a risk in that situation," Henriquez said. "I've been trained for it to be a risk."
The risks of coming out on the job
That sense of risk isn't unfounded. The FBI reported that 1,130 hate crimes based on sexual orientation bias and 119 hate crimes based on gender identity bias occurred in 2017. Employers are also legally allowed to fire people in 29 states for being lesbian, gay or bisexual, or transgender, according to the Human Rights Campaign.
While it's not likely an LGBTQ+ person would experience physical violence in the workplace, many worry that choosing to be out would evoke latent homophobia or transphobia from their colleagues, hindering their ability to progress or succeed in the workplace.
"You don't really want to be put at a disadvantage when you're going to be assessed in comparison to your peers," said Emily Kuo, a 26-year-old queer woman and marketing manager at Amazon in Seattle. "You never really know where someone's views lie, especially when the people in power are of a different generation."
Conor Mahon, who is pursuing a doctorate in psychology at Dublin City University in Ireland, studies this exacerbated sense of social anxiety in LGBTQ+ people.
"They're dealing with excess stresses that a heterosexual person wouldn't deal with, such as actual experiences of discrimination or internal processes like internalized homophobia," said Mahon, 26.
Mahon's review of the literature around social anxiety in sexual minorities finds that, across the board, LGBTQ+ people are significantly more likely to experience social anxiety than their heterosexual and cisgender counterparts. This heightened anxiety makes them more sensitive to the possibility of rejection and can hinder their occupational function, he said.
Jace Ritchey, a fifth-year justice, rhetoric and society studies major who identifies as genderqueer, didn't feel comfortable coming out as nonbinary on their first two co-ops — the first at Sen. Elizabeth Warren's press office and the second at a small nonprofit.
"I've always been conscientious of the way my identities and my queerness are visible in places of employment," Ritchey said. "For my first two [co-ops] I felt comfortable being out in my sexuality, but due to not really having the words to understand my gender orientation and feeling uncomfortable with navigating that, I did not disclose my gender identity at my first two co-ops."
On the first day of Ritchey's third co-op as an events coordinator at the Boston Globe, they came out as genderqueer. Ritchey didn't feel prepared to have that conversation. They described the frustrating realization that explaining their identity depended entirely on self-advocacy — there was a lack of institutional resources to lean on for support.
"At no point was I made to feel immediately unsafe. But at the same time, I was not fully embraced [at the Globe]," Ritchey said. "I was tepidly respected."
Ritchey said they decided to come out on their third co-op, unlike the previous two, to avoid downplaying their identity and, consequently, parts of their personality.
"The determining factor was that I recognized how much of myself I had to compromise when I wasn't able to bring my full self to work," Ritchey said. "Having that much weight on me is distracting and inhibiting and I could no longer justify my silence."
Although many may think of an LGBTQ+ person as in or out of the closet, Mahon said research is starting to describe coming out as an endless, lifelong process. For example, someone might be out to their manager, but not to someone they're working with on a project. As such, they may feel the need to act differently around that project partner. Mahon refers to this decision to act "less queer" as concealment or covering.
"Concealment isn't just the act of coming out, but it's in your everyday life," Mahon said. For example, an LGBTQ+ person might change mannerisms around different people or deepen their voice at work.
That said, the question of how much of one's self to bring to the workplace isn't necessarily unique to LGBTQ+ students.
"I think every student is assessing how much of themselves they want to bring to work," said Heather Hauck, the associate director of the finance and accounting co-op group at Northeastern. "There are some people in life that bring their professional selves to work, and don't feel comfortable disclosing anything about themselves."
Students advocating for themselves
At the Globe, Ritchey lobbied management to provide gender-neutral bathrooms for employees. The company's HR department was preoccupied with payroll and health care matters, Ritchey said, and the momentum to support this marginalized community just wasn't there.
Ritchey took up the matter with senior leadership. One manager made it a priority, but it was a long process and the new bathrooms weren't completed until Ritchey's final week of co-op.
"My gratitude for it having happened at all means more than anything else, regardless of how difficult the situation was for me," they said. "The reception to the changing of [bathroom] signs was hugely positive. It was hugely inspiring to me to hear from others that they had recognized what work had gone into it."
Many large workplaces have worked to create work environments more welcoming to LGBTQ+ employees by establishing employee resource groups and diversity councils dedicated to the LGBTQ+ community. According to the Human Rights Campaign, 89 percent of the 947 employers ranked in its 2018 Corporate Equality Index have resource groups or councils for LGBTQ+ employees.
However, with little available information about the rate of adoption in the other 18,752 U.S.-based firms employing more than 500 people in 2016, it's unclear how common — or effective — these initiatives are in the majority of workplaces.
In many cases, an employee resource group or diversity council is not an antidote to LGBTQ+ workplace anxiety. Kuo is a few years into her time at Amazon, which has a LGBTQ+ resource group, yet she still faces the daily question of whether or not to come out.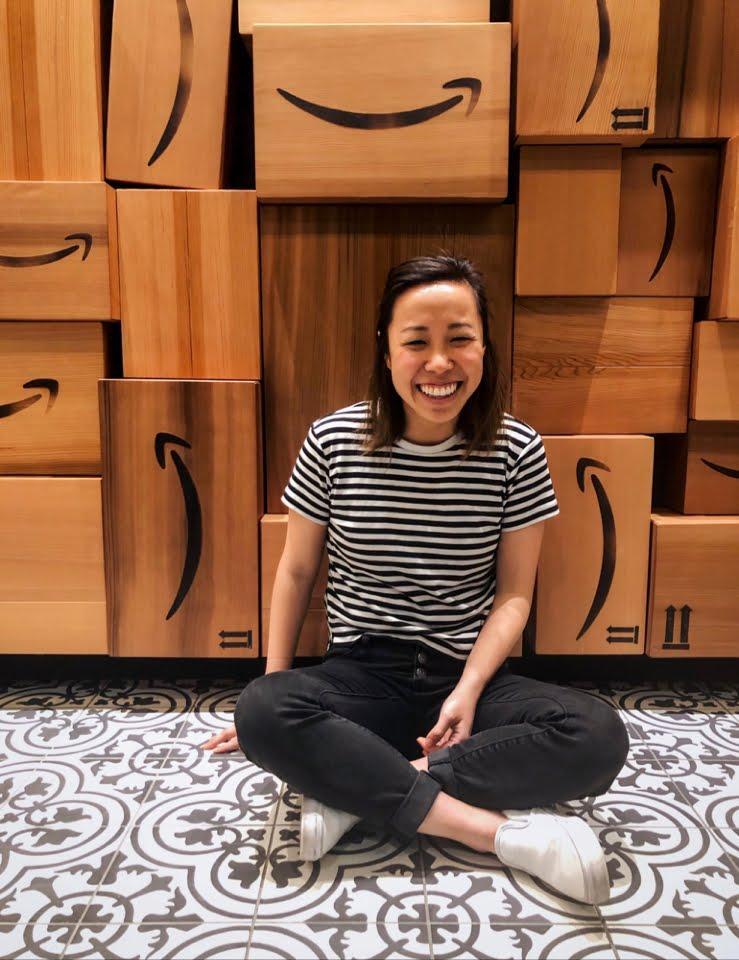 Photo courtesy Emily Kuo
Emily Kou works at the Amazon Headquarters in Seattle and is the director of Out for Undergrad's marketing conference.
"Not wanting to risk relationships is always something at the back of LGBTQ+ people's minds," Kuo said. "When you're hiding that part of your life, it comes up on almost a weekly or daily basis, when you have the opportunity to share who you are, or flat-out lie."
In addition to her work at Amazon, Kuo is the director of Out for Undergrad's marketing conference. Out for Undergrad, or O4U, is a nonprofit organization dedicated to advancing the careers of high-achieving LGBTQ+ undergraduates. The company coordinates four annual conferences where students can hear from employers who are supportive of the LGBTQ+ community and network with other LGBTQ+ students.
"O4U and similar events are so powerful because you can connect to people with similar struggles as you," Kuo said. "You get insight into other people that may look like you or may embody a piece of your identity that's really important to you."
An integral component of the conference is linking students to mentors who understand their unique experiences and can support them in their careers. For day-to-day life, though, Kuo said it's imperative that students find colleagues who have their best interest at heart.
Mahon's research supports this search for allies. Social support satisfaction "continually emerged as being negatively correlated with social anxiety — that is, it buffers against it," he said.
Henriquez felt comfortable enough to come out because she found support in the other intern on her team at Goldsmiths.
"Even if it wasn't everyone, the support of someone there was really nice," she said.
Ultimately, Richmond and Hauck believe the decision to be out on the job is up to the student and their goals, priorities and preferences.
"Sometimes students are listening to everyone else in their world, and I think it's so important to help a student get a sense of who they are and what they're comfortable with," Hauck said. "Students should be empowered to have the choice to be who they are, and sometimes, that means taking a risk."
Charlie Wolfson contributed to this story.